David Christie, P.Geo.
David Christie, P.Geo.
Director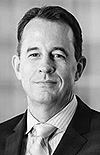 Appointed to the Board in March 2014, David Christie has 29 years of experience in the resource sector. In April 2015, Christie was appointed President and CEO of Eagle Hill Exploration Corp. He also continues in his roles as Vice President with Goodman & Company, Investment Counsel and Dundee Resources Limited, wholly owned subsidiaries of Dundee Corporation. He is a Director of Eagle Hill Exploration Corp, True North Nickel (a private company) and Condor Precious Metals Inc. (a private company). Prior to joining Goodman and Company, Christie was a highly ranked gold and precious minerals equity research analyst at two bank-owned dealers. He also has extensive experience in the North American mining industry working as a professional geologist exploring for gold, base metals, uranium and platinum group metals including underground experience. Since joining the Dundee organization in 2011, Christie has taken on a merchant banking and investment management role. Christie is a member of the PDAC convention planning committee. He received a Bachelor of Science in Geology from McMaster University in 1986, is a Professional Geoscientist with APGO and NAPEG, and a fellow of the Geological Association of Canada.