J. Paul Farquharson, B.B.A.
J. Paul Farquharson, B.B.A.
President & CEO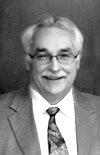 Mr. Farquharson is President, Chief Executive Officer and Director of the Company. Previously, he was Chief Financial Officer and has been with the Company for over 23 years. He was integral in the success of numerous financings totaling over $100M with the Company. He has made valuable contributions to corporate development and strategic acquisitions of the Company. He possesses extensive in-house experience with the numerous aspects of the mining industry, including corporate management, administration, compliance, and capital markets.