Gregory Hahn, CPG, B.A, M.S.
Gregory Hahn, CPG, B.A, M.S.
Director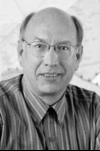 Appointed to the Board in May 2013, Mr. Hahn has over 35 years of mining industry experience and is currently the President of Canamex Resources Corp. He has served on the board of numerous companies including Marathon PGM Corp. and Metalline Mining where he was Director and Interim President & CEO. Mr. Hahn was also former District and Senior Geologist and Chief Mine Geologist with Noranda (now Xstrata) on the Blackbird Project, located adjacent to the Company's 100-percent owned ICP.