June 19, 2017
Cobalt Price Surge May Be Signpost to Boom
Cobalt price surge may be signpost to boom, as electric vehicles begin to suck in supply
19 Jun 2017
The cobalt price has been on a tear in recent months, but it may just be the early signs of something much, much bigger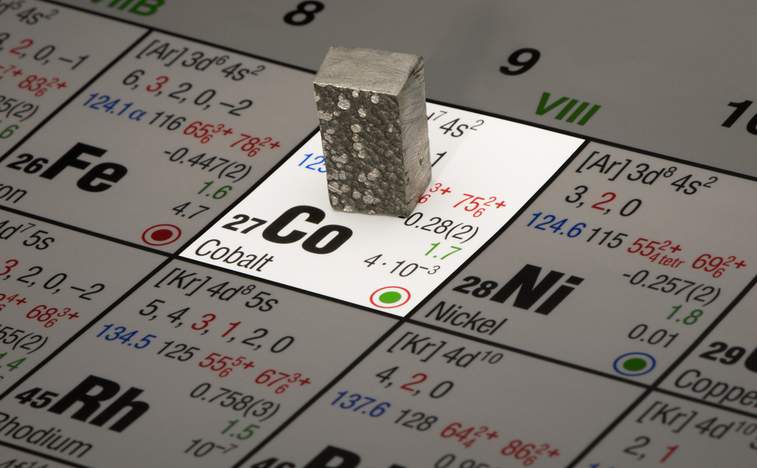 The cobalt market is about to undergo deep transformation
It must be a sobering thought for US policymakers in this protectionist age that the US has no cobalt mines of its own.
Cobalt is a key ingredient in the production of lithium-ion batteries, in particular the small kind that goes into mobile phones and laptops.
But that's not all. Following recent price strength growth is set to surge still further as the electric vehicle market expands.
And the tiny percentage of global cobalt supply that the US and Canada is able to produce from secondary sources is unlikely to be enough to satisfy the demand requirements of manufacturing just a single model in the Tesla range, let alone the company's entire output.
If other major manufacturers like General Motors or Ford also start sucking in significant quantities of the metal, a real hard squeeze looks likely.
In a fully functional globalised economy this might not matter, especially since US consumption of cobalt in dollar terms is still relatively small.
But recent trends indicate that protectionism is on the way, and some countries, notably China are already moving to secure supply. The Chinese have bought one of the world's largest cobalt producing mines, the giant Tenke Fungurume project in the Democratic Republic of Congo.
China has also recently bought the major European refiner in Finland, from North American giant Freeport McMoran.
The salient fact for US policy-makers is that most supply comes of Africa, and most refining takes place in China and Europe. Another major producer is Australia, which is increasingly looking to China as its major customer.
For Europeans the recent easing of Chinese-European relations will lessen worries on this score, as President Trump antagonises both sides in equal measure about global warming and other issues.
Even so, local car manufacturers in Germany and France will want to be able to secure supply closer to home if they possibly can.
After all, Chinese market dominance in particular commodities is nothing new - and there's long nervousness about the Chinese pre-eminence in rare earths since before President Nixon brokered détente in the early 1970s.
As a result, manufacturers, producers and policymakers are increasingly looking at standalone cobalt mines as a way of securing supply. To date, these have been relatively few and far between.
Instead, cobalt production has come as secondary to existing nickel and copper production. That's because it's largely mined, as at Tenke Fungurume, as an extra credit.
But it looks like that's about to change.
The most obvious candidate to head up the next generation of projects is the Idaho mine currently under development by eCobalt Solutions (TSE:ECS), formerly Formation Metals. This project has been a stop-go affair for some years now, held back by low prices, the global financial crisis and the subsequent protracted mining bear market.
But cobalt prices are no longer on the floor. On the contrary the cobalt price has more than doubled over the past 12 months, although it's still down on the highs hit during the mining boom years of the last decade.


In response, eCobalt has got its skates on to the point where new money is now in the bank and work on a feasibility study is well underway.
And eCobalt is not the only one on the move.
Cruz Cobalt (CVE:CUZ) has staked five prospects in the USA and Canada, a new ETF called Cobalt27 (CVE:KBLT) has launched in Canada, and smaller, mothballed projects like the Madison cobalt mine in Missouri, are now attracting interest.
Others will come to the surface soon too. And since the US is likely to suck in all of its own production for domestic use, there's plenty of activity elsewhere in the world.
Greatland Gold (LON:GGP) recently acquired new cobalt exploration ground in Australia.
And Cadence Minerals PLC (LON:KDNC) has just signed a deal on a cobalt-nickel project in Austria, perfectly positioned to supply directly into all those Bavarian car manufacturing concerns.
"The driver is electric vehicles," says Cadence chief executive Kiran Morzaria. "There are going to be strategic requirements to have the source of your product more local."
Morzaria looked long and hard at cobalt before allowing Cadence to dip its toe in the water. But his conclusions in the end were arresting: hedge funds and big companies like Glencore are taking positions and the market looks set to grow at between 4% and 8% compound per year.
View the
Previous
News Release:
March 10th, 2017, Apple cracks down on Congo cobalt supplier