August 10, 2017
Friedland Pitches Metals Used in Electric Vehicles
Publisher: Northern Miner
Author: Lesley Stokes
Sprott Conference: Friedland pitches metals used in electric vehicles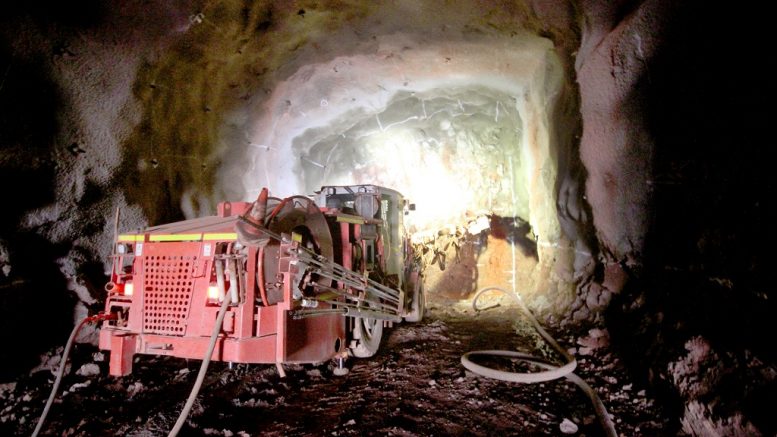 Drilling of face in service decline at the Kamoa deposit, part of Ivanhoe Mines' Kamoa-Kakula copper project in the Democratic Republic of the Congo. Credit: Ivanhoe Mines.
POSTED BY: LESLEY STOKES AUGUST 8, 2017
VANCOUVER — The electric car revolution is accelerating, and so will the demand for metals that make them work, Robert Friedland, executive chairman of Ivanhoe Mines (TSX: IVN; US-OTC: IVPAF) said during a presentation at the Sprott Natural Resource Symposium in Vancouver in late July.

In what has become a recurring topic in his presentations, Friedland stated that continued rapid urbanization, combined with efforts to fight air pollution, will lead to the ramping up of electric vehicle production. And the demand for the metals needed to build them — including copper, platinum, palladium, zinc, nickel and cobalt — will rise as a result.
"This is an era of unprecedented change, it's really happening," Friedland said. "The handwriting is on the wall. For those of you who deny this phenomenon, you're going to miss this massive disruption opening soon at a theatre near you."
"Air pollution isn't just in China. It's in Paris, Greece, Madrid and Mexico City," he said. "In Beijing, the government is on an air pollution jihad. It's engaging in the largest enterprise ever to clean the air, and they're going to do it because China is a command economy."
He noted an electric vehicle currently contains 150 kg of copper — or four times more than a conventional vehicle — and even more copper will be required to electrify developing countries, he said.
"We don't have enough copper being discovered to meet future copper demand. We need much higher copper prices to stimulate the painful enterprise of exploration, development and production. We're just getting on the edge of a very steep ski slope and looking down over the edge."
Friedland predicts that copper — which currently trades at US$6,290 per tonne — will remain in a "modest" deficit this year, but by 2021 the world will "wake up and realize that we're out of copper at a reasonable price."
He said if the world's economy grows at 1.8% a year — a number predicted by management consulting firm McKinsey & Company — by 2030, copper will be in "massive deficits" even without a wholesale, global changeover to electric vehicles.
Friedland's bullishness on copper is one of the many reasons why Ivanhoe and 39.6%-owner and partner Zijin Mining Group are developing their world-class Kamoa-Kakula copper project in the Democratic Republic of the Congo (DRC).
Friedland calls Kamoa-Kakula the world's largest undeveloped copper deposit, and it continues to rapidly grow in size. A resource update in late June includes the project's high-grade Kakula discovery, which brought the resource to 1 billion indicated tonnes of 3.02% copper, plus another 191 million inferred tonnes of 2.37% copper.
In his presentation, Friedland also argued for a promising outlook for nickel and cobalt.
He noted that only 4% of the metal value in a lithium battery is lithium, whereas 80% of the value is in nickel sulphate with cobalt representing 15%.
"If we're going to have electric cars, the winners are going to be nickel and cobalt. The metal that's scarce is cobalt, and since January last year, cobalt has been the best performing metal. Gold hasn't tripled," he said.
In response to the burgeoning cobalt market, Friedland now has a 19.9% interest in Clean TeQ, (ASX: CLQ) — a junior explorer advancing the world-class Syerston nickel-cobalt-scandium project in New South Wales, Australia.
"Green funds are all the rage," he said. "They have access to massive pools of capital, much larger than the money that attracts the gold bugs. I wouldn't be surprised if shares of Clean TeQ don't outperform shares of Ivanhoe."
For electric vehicles that use a hydrogen fuel cell rather than a lithium battery, platinum group metals (PGMs) are needed, he added, with up to 30 grams of platinum being used in each car.
"China is planning to build 60 million cars, and if just one out of ten of those cars is powered by a hydrogen fuel cell that's roughly equal to the total world platinum production," Friedland said. "Platinum is very rare in the crust, much rarer than gold. If I were you, I'd buy platinum over gold — there's no platinum reserves sitting in the central bank vaults waiting to be puked out."
Ivanhoe has its 64%-owned Platreef PGM project, a world-class deposit it discovered in South Africa's prolific Bushveld Igneous Complex.
The company's definitive feasibility study envisages a 4 million tonne-per-year operation in a first phase of development producing 476,000 oz. of platinum, palladium, rhodium and gold, plus 33 million lb. of nickel and copper per year.
Ivanhoe's third main asset, the Kipushi zinc project in the DRC, also has a bright future, Friedland argued.
"After cobalt, zinc was the second best performing metal last year," he said. "Goldman Sachs is predicting a huge shortage of zinc, and the world's zinc mines are closing. When you look at all the zinc projects out there, Kipushi is sticking out like a sore thumb. It averages 45% zinc equivalent, so it's essentially a money mine. Every cubic metre has about $5,000 worth of zinc in it."
View the
Previous
News Release:
August 5th, 2017, Child miners aged four living a hell on Earth so you can drive an electric car
View the
Next
News Release:
August 18th, 2017, The Death of the Internal Combustion Engine